Slate Roofs
When you RS Meridian Construction for your slate roof installation in Fort Worth, you can be confident that trained and dedicated crews will complete your roofing installation to the highest standards of quality with a commitment to safety.
Slate roofing is recognized worldwide for its beauty. Quarried slate can be applied in a wide array of colors with uniform lines or staggered fitment to create custom aesthetics. Color blending and pattern options make slate one of the most celebrated roofing materials in use. Slate is impact resistant, fire resistant and has a low water absorption rate, making it an excellent choice for unpredictable North Texas weather.
The earliest slate roofs found to date are eighteenth century Norman and Saxon chapels. Although completely covered in moss, these roofs are still intact today. These chapels serve as an excellent example of slate durability over centuries. Slate is seen in North America on many churches and government buildings, but is an ideal option for any luxury home.
Slate begins its life as a metamorphic deposit below the surface of the Earth. It is born of argillaceous sediment or volcanic ash deposits subjected to extreme pressure and time. It is excavated from its quarry using heavy machinery and explosives and sent to mill. The slabs are measured and cut repeatedly until the desired thickness and shape is achieved. The tiles or "chips" are then bombarded with flames and cold water to ensure an even finish. The slate is sanded and finished many times, drilled for nails, and sent to distribution.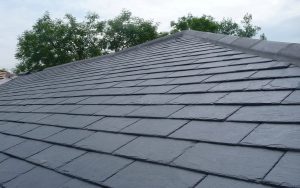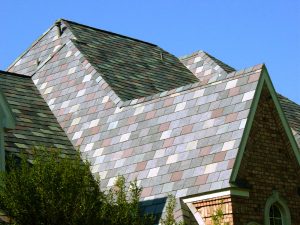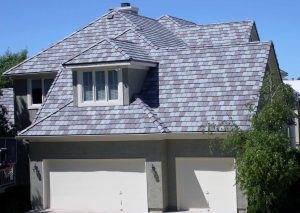 At RS Meridian, we can guide you through the process of choosing the best slate for your application. We work closely with architects and designers to ensure that colors and vernaculars are met with precision. Nominally, we install slate with synthetic underlayment, but recommend smooth membrane self-adhering underlayment due to the likelihood of wind-driven rain. Copper flashings are required for slate and RS Meridian uses custom breaks to form all flashings for your needs.
Natural slate is not only beautiful, but impact resistant as verified by recent tests by the National Slate Association
Complete details of the testing and data can be viewed here https://slateassociation.org/slate-testing/